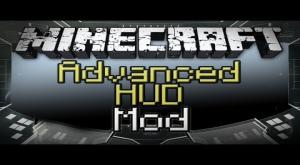 Views: 975
1.0.0
TurboSlow
A continuation of AdvancedHUD by TurboSlow.

Since TurboSlow has given up development on AdvancedHUD, I figured "well shit, I do HUD mods too, so why not pick that up?" So I am in the process of picking it up. I have most elements working as they were in previous versions and I am hoping to use some of the features in this to finally get movable HUD elements into TukMC.

In case anyone is wondering where TurboSlow had announced it: http://www.minecraftforum.net/topic/690142-147-advanced-hud-481/ and if that link is down, here's a screenshot: http://goo.gl/w27fw

At the moment, all credit goes to TurboSlow for the code and textures, when I get more into it I'm sure I'll find fixes I can make.