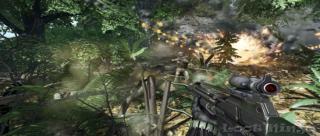 Views: 1,049
1.0
Rad15
Simply Run the Installer And your Good to Go.

This version is the full AI, its just the core AI elements and some custom extras you can add (gore and Walking While Idle)

The Gore was done by Havoksage, and it is still WIP.

The Walking Around While Idle is not recommended for AI Flowgraphers as it May Cause Some issue/conflict with the FG

Credits:
adcliff for awsome gun models and support.
Sideshowbob for building models
Bgavran for his undying support
Ornagy and Jlim for their support and awsome Grenadelauncher
Mad Scientist: For his support and c++ and helping me
Death By Design Team: Thank you guys so much for you support, you guys made me go a long way
Mcginge: for his support, help, and many suggestions and super testing
Fortran: for his help and support and models
VAGB: For his community models
Pepper: Thank you for some awsome new sound effects which add more deph in my opinion.
Dark Shadow: For his help and many many suggestions
Cargo: Thank you for your awsome models and support.
Wolfi For your help and models
zygurt: for his sounds editing
ror-shak: weapon model and support
DICY: support and suggestions that worked out and map
ben72227: For your extreme testing, and unimaginable feedback towards my AI which drove it to be so much better.
Havoksage: For testing and giving valuable Feedback
Mangobyebye: For testing and going behind enemy lines to make an awsome essay review
Sirbaron: For testing and good feedback
Jubei: For help and suggestions
Watbe: Help, suggestions, and testing

If i missed anyone just pm me or tell me.

For more info on the AI go here and read the first page.

http://www.crymod.com/thread.php?threadid=24954&threadview=0&hilight=&hilightuser=0&page=1


Please for the love of all that is good, do not complain about some bugs you may encounter, this in my mind is still WIP. I may have missed some bugs, I kinda rushed some stuff. If there is any bugs, just post it in the thread without the smart**** attitude :P I hate whiny people, honestly, so if i may show aggression, please dont mind me.
Bugs I did Find:
The AI might sometimes shoot at nothing, why, because if you fire one silenced round into a wall, ground, or any object, the AI think of the sound it makes on the ground as a probable threat and deems it a cloaked or hiding enemy. I did as much as i could to stop them from doing it, i couldnt remove it completly because sound for the AI is very important now, if you fire a sniper round or rifle at a distance the AI cant see you, they will approach that spot and even possibly flank that spot, and sometimes fire randonly at thats spot.

The Walking Around While Idle is not recommended for AI Flowgraphers as it May Cause Some issue/conflict with the FG

Sometimes the AI might just stand there, this i never encountered, it could happen though cuz i added some new stuff before i read this readme. Please inform if they do.

Stuff that might be bugs that arent:
Sometimes the AI might run right passed you and not notice you unlike before where they just suddenly have eyes behind their head. So i made their FOV similar to real life, to provide a more stealthier experience.

Special Note:
If you did not read the first page, then read this atleast. Once you launch my mod, you have to do absolutely nothing, just run it and play. These are the scripts in the crysis folders, so it affects nearly all of the human AI(except civilians) For SB2, just drag and drop an AI. Mix and match what characters you use (cover2,leader,sneaker,and camper) Read the first page for more info.

http://www.crymod.com/thread.php?threadid=24954&threadview=0&hilight=&hilightuser=0&page=1