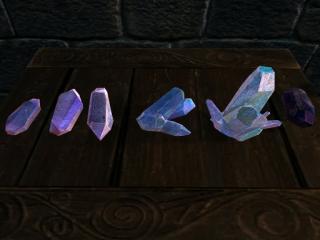 Views: 2,357
2.4
bluedanieru

What it does
Acquisitive Soul Gems changes the way soul-trapping works in Skyrim so that you'll never 'waste' a soul gem again, such as by trapping a petty soul into a grand gem, or a common soul into a greater gem, etc. With this mod, petty souls only go into petty gems, lesser souls only go into lesser gems, and so on. If you try to trap a soul, but you don't have any gems of the right size, you'll just fail to trap the soul. So for example, if you try to trap a common soul, but you only have an empty greater gem, then when that creature dies its soul will escape rather than partially fill the greater gem like it normally would in Skyrim.

It also changes black gems, including the Black Star, so that they only hold black (i.e. human and elf) souls, not the souls of creatures. This is how it's indicated to work in in-game texts, and how it worked in Skyrim's predecessor, Oblivion.

It does not change the way Azura's Star works, and you can fill that with any size soul you want. I made this exception because a very common use of Azura's Star is for recharging weapons without caring what the size of the soul is, and it's hard really to waste a reusable gem anyway. (Although, allow me to plug here another mod of mine, Soulfire, which handles weapon recharging a bit differently and which you may like if, like me, you find tedious constantly trapping and using souls to power your Dwarven War Axe of Flames.)

Finally, there is a bug in Skyrim that when you drop a soul gem on the ground, or place it in a container, it can lose its charge. This mod fixes that too.



Installation
Place the contents of the archive in your Skyrim/Data directory.



Compatibility
Load this mod AFTER SkyRe, and everything will work fine.

As this version duplicates and expands upon the functionality of Smart Souls (without requiring SKSE), it should not be used in conjunction with it.

I recommend Projectile Soul Trap if you want the Soul Trap spell to have a visible projectile.



History
2.4 - Fixed Soul Tear.

2.3 - Minor fixes.

2.2 - Added Soul Tear shout. Versions after this point require Dawnguard is installed.

2.1 - Fixed issue with Soul Stealer perk not using the correct logic.

2.0 - Added additional functionality for checking gem size when filling a soul, similar to Smart Souls by shadeMe.

1.0 - Initial release