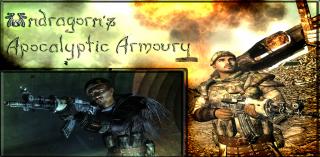 Views: 8,230
09.07.10
Andragorn
Andragorn's Apocalyptic Armoury is an underground shop located near Vault 101. The screenshots will show the location of the entrance and all the items available.
Jaeger armor
jaeger sniper armor and hood
sergeant armor
berets + cockades
assaultpack

for comparison:
Combat Armor weight 25, health 400, AR 32, value 390
Jaeger Armor weight 22, health 1500, AR 38, value 500

You can use raider and combat armors to repair jaeger armors.

==================================================

Known issues
1. VATS-targeting the armors is far from perfect, but I don't care because I'm not shooting my toes anyway.
2. Because of some exporting issues, there are some "black spots"
3. Jaeger armors where designed to have the module and daypack attached, but because reguested I made them optional so some issues might be seen in places where the modules were supposed to be.
4. This is not compatible with my old Andragorn's Apocalyptic Armoury mod

==================================================

How To Install
Extract all files under .."your Fallout3 folder"/Data
(e.g. D:/Fallout3/Data)

==================================================

Uninstall
If you want to unistall all just delete the AAArmoury.esp-file and the following folders:
data/meshes/AAA
data/textures/AAA

==================================================

Thanks to
VeliV for problem solving
scanti for the conformulator
Bethesda
NifTools
All those who write tutorials

==================================================

Terms of use
1. Use at your own risk
2. Do not misuse/touch my logo (the "A" sign) nor the poster sign (the drawing)
3. If you understand the two above terms, feel free to use (parts of) this mod in your own free Fallout3 mods. And remember me in the credits.
4. Those few who once wanted to do translations and upload it (or sneakily already did so without permission) either on Nexus or on other sites may do so.