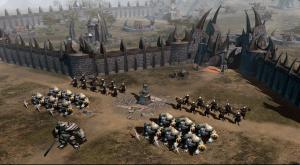 Views: 4,849
1.0
Multiple
Collection of 8 great 8 player maps for Rise of the Witch King. They fully support the Angmar faction and Gollum (The One Ring).

The archive containing these 8 Rise of the Witch King maps is created with the Store Relative Paths feature enabled. To properly extract this collection of 8 player maps, they must also be decompressed with the Relative Paths preserved.

Once the maps in these paths are extracted into your personal maps folder, they should be automatically read by Rise of the Witch King and appear in the list of Skirmish maps available for play.



Install
On Windows XP, the path structure is typically something close to this:

C:/Documents and Settings/USERNAME/Application Data/My The Lord of the Rings, The Rise of the Witch-king Files/Maps



Vista
On Vista (shudder) I believe they will be somewhere under the Users folder. Although I do have an OEM copy of Vista, I have not tested these maps on that system due to the fact that I replaced it with a retail copy of Windows XP SP2, which works well with all my peripherals by comparison.

Also, unless one of the original creators of these maps objects, please fill to upload, share or distribute the unmodified archive and this unmodified readme.txt file, freely. One of the intentions in creating this bundle was to help get it out there into the hands of as many Rise of the Witch King owners as possible in the hopes that they will find them fun to play.

If you have any non-technical support type questions or comments, please feel free to contact me. However, I would ask that you be aware that these maps are distributed AS-IS and that it is recommended you backup your system in full just in case something goes wonky. I've made a reasonable effort to ensure these files and archives are free of viruses, trojans, malware, etc. and the archive integrity is in tact. But sometimes unexpected things can happen, so it's better to be safe than sorry.



WinRAR
These archives have been created with WinRAR 3.71. One in ZIP format for a more general compatibility, the other in RAR format for efficiency. Since WinRAR 3.71 handles both formats quite well, it may be a good extraction tool to use in the event other archive applications have some issues with the format.

Happy Gaming,

dudeboyz AT hotmail.com