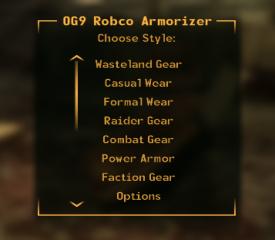 Views: 4,527
1.1
Bally9
This is a quick way to give your character a new look, without digging through your stuff or carrying around excessive amounts of clothing.

It does not add permanent items to your characters inventory or of NPCS, no need to worry about using it too much and having junk left behind.

The Armorizer simply equips you with randomized items fitting the theme you choose, and they disappear the next time you use it.

With a vast number of possible clothing combinations that can be generated, its perfect for many occasions. Such as if you want to give yourself a business look for downtown Vegas, it takes 2 seconds. Then a few seconds later, give yourself the Road Warrior look as you head back into the sands.

Its great if you have many followers and want them to have the same look.

And its practical for power armor which is typically too heavy to carry around for when you actually need it.

-This is an easy to use menu based item that instantly equips randomized clothing, armor, hats and glasses based upon the Fallout theme you choose (in all, over 100 potential items in use):

Wasteland Gear: Leather and metal armors as well as bounty hunter styles.

Casual Wear: Prewar 1950s and cowboy styles.

Formal Wear: All the suits in the game and their default female clothing counterparts.

Raider Gear: Says it all.

Combat Gear: Black and green combat armors.

Power Armor: The two varieties of BoS armor, NCR salvaged armor, and Enclave Armor.

Faction Armor: A submenu to choose from NCR , Legion, Khans, Boomers, Kings, Powder Gangers, and Brotherhood of Steel.

-NPC Mode: Under the options, you can toggle NPC mode on/off. When it is on, any adult NPC in the game will have an Armorizer dialogue choice. Click it and choose how to redress them. If you get tired of the dialogue option being there, just turn the option back off.

Any NPC will have his Armorizer clothing removed the next time you use it as well*. Under the option menu, there is a Redo NPC option. You can use this to redress the last NPC you changed if you are trying to tweak the style and dont want to initiate a conversation again. To completely revert an NPC to their old look, simply use the tool (dialogue or Redo), press exit and it is back to normal.

*Due to a Geck limitation, any hats or glasses the NPC has by default that are also used by this mod will be removed from their inventory (all clothing items are safe). If you dont want to potentially lose an NPCs default hat or glasses, turn the hat/glasses options off in the option menu.

Version 1.1 update:
-Fixed known items that were not becoming unequipped from NPCs.
-Fixed multiple Armorizers from spawning in inventory when redressing an NPC.

If this mod has a positive impact on your experience, help bring it to the attention of others. Take the time to Endorse!